Auto Spray Systems is at the forefront of autonomous drones and robots for use in horticulture. The team has extensive experience utilising drones and robots for autonomous vehicle (UAV) projects. Auto Spray Systems have critically played a vital lead in liaising between various departments and organisations with the Government to fast-track the use of these UAVs in horticulture.
Introducing the P100 Pro Agricultural Drone - Pro in every flight
The P100 Pro is a unique folding quadcopter designed for agriculture. Its upgraded power system supports a 50L spray tank or an 80L granule hopper.
Transforming from sprayer to spreader in under 60 seconds!

You can change the application platform on your P100 Pro in less than a minute. Unclip two latches and release one cable to lift the airframe onto the alternate application platform. The P100's application platforms lead the world in capacity. 
The granule hopper capacity is up by over 30% to 80 litres; great news for anyone seeding large areas or looking to get fertiliser on as quickly as possible.
In order to reduce refilling requirements, the spray tank capacity has been increased by 25% to 50 litres.
These advances will make a difference in EVERY job.
Built to spray
Every part of the P100 Pro has been engineered to optimise spraying performance. In addition to the class-leading 50L tank capacity, the pump speed has been dramatically increased, up by 180% to 22L/min. The 50L smart spray tank features contactless, real-time volume sensing to ensure you are always informed.

The twin spinning spray disks, known as Controlled Droplet Applicators (CDA's), can accurately control the droplet sizes between 60 microns, fine mist, and 400 microns, a very coarse droplet. Remember, you can control the droplet size independently of your pump flow rate - this means you can set the spray system for optimal performance every time.
Built to spread
The RevoCast-3 granule hopper has increased by over 30% to a class-leading 80L capacity. It features a twin vertical centrifugal spreading disk, providing an even spread pattern highly resistant to wind deflection.

The redesigned intelligent auger feed system can discharge up to 150 kg/min. Imagine spreading a bag of fertiliser in just 20 seconds with total accuracy.
Works as hard as you
The XAG P100 Pro is now easier to transport than ever before!

Its new design features folding carbon fibre arms, reducing the volume by 62% for transport- making it easier to transport in smaller commercial vehicles and pickup trucks. At the same time, its carrying capacity and efficiency has improved. The granular hopper, used for seeding and fertiliser spreading, has increased from 60L to class-leading 80L, with a maximum discharge rate of 150 kg/min.
The liquid tank capacity has increased by 25% to 50L, and its maximum pump flow rate is up 180% to 22L/min. These improvements will make a real difference to every job you tackle.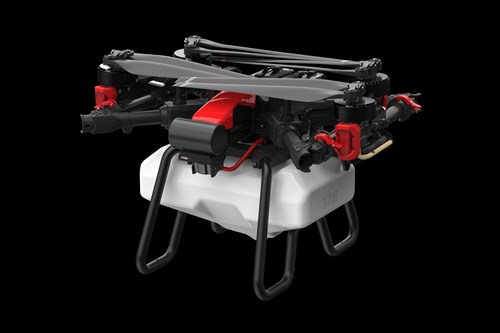 Performance and power
At the P100 Pro's heart is a lightning-fast 1GHz processor. Once you have planned your mission and uploaded your parameters to the drone, it takes over and autonomously completes the flight. This powerful work platform is driven by four brushless motors, which receive power from 48V lithium batteries. These state-of-the-art 48V lithium batteries recharge from 20% to 100% in as little as 10 minutes using our in-field chargers.

Each drone system includes a water cooling system that ensures the batteries are kept within operational limits while working flat out.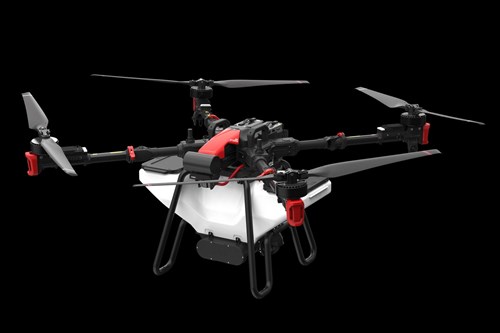 Safety and efficiency
Safety is a critical factor when operating large drones. The P100 Pro features an upgraded 4D radar with an effective range of 1.5m to 80m.

The downward-facing terrain sensors ensure the drone will maintain a consistent height above the ground, even in mountainous areas.

New to the P100 Pro is AI fault detection. If the SuperX4 processor detects a usual vibration, it immediately alerts the operator. With IPX6K water protection, even the most aggressive chemicals can be removed before corrosion occurs.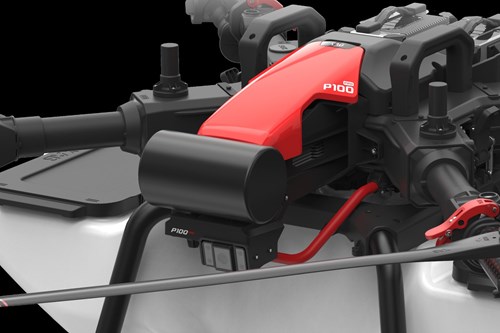 Greenhouse shading
Applying shading with a drone is faster, cheaper and safer. The drone will get the job done in less time and uses less shading paint while the operator keeps their feet on the ground.

Training
Training to fly the largest horticultural drone is not something you take lightly. That's why Auto Spray have partnered with the UK's leading agricultural training institution, Harper Adams University and SURC to deliver the CAA/LANTRA Approved Remote Pilot and Drone Spraying Certifications.
The course is exclusive to Auto Spray and was designed from the ground up to prepare clients for the new world of horticultural drone operations.
As part of this intensive 5-day course, you will learn how to:
• Handle chemicals safely
• Operate and maintain your drone
• Safely execute spraying and spreading operations in an agricultural setting
The course provides a successful candidate with the following:
• CAA Approved 'General Visual Line of Sight' qualification
• LANTRA Approved 'Safe Use of Pesticides' certification
• LANTRA Approved 'Applying Chemicals with a Drone' certification
• Hands on maintenance and flight planning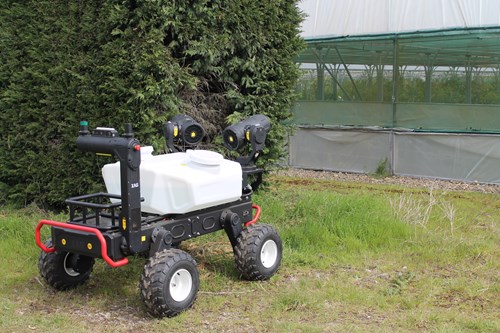 Introducing XAG R152 – the multi-functional autonomous electric farm robot
The XAG R152 is a robust yet lightweight, 4 wheel drive autonomous vehicle that can tackle a wide range of tasks around your site such as spraying, transporting and mowing.
As a compact sprayer
Ideal for orchards, vineyards and poly tunnels, this configuration with its 150-litre spray tank gets the job done. The twin spray cannons can be individually programmed for a spray pattern to suit every job. Powerful adjustable fans are used to control the spray up to an impressive 12-metre width. The droplet size can be varied from fine mist to course droplet at a touch of a button.
As an autonomous transporter
With 1000Nm of instant electric torque on tap from the R152's powerful twin electric motors; this robot is a very capable farm transporter. Whether you're using its robust 200kg rated load carrier or you have attached your own trailer, the R152 can really take the strain out of a long day's work. Beside the manual mode, there are 2 intelligent control modes. Shuttle mode allows it to automatically travel back and forth between 2 locations; perfect for fruit picking at harvest time. In follow-me-mode the R152 will faithfully follow an operator carrying the heave load or pulling a trailer.
As an integrated mower
The R152 can be configured with an integrated mower unit. Powered from the robot's twin smart batteries, the mower has twin steel blades and a cut width of 900mm. With both height and speed adjustment, the mower can tackle a huge variety of weeds, from grass to reeds to brush. Built-in stereo vision cameras mean that if someone or something wanders in front of the mower while it's working, it will automatically stop and wait till it's safe to continue. One operator can control a swarm of up to 6 R152's from a single handset which transforms productivity.